Écrit par Stegg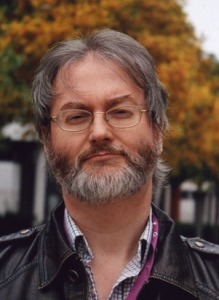 Simon R. Green est né à Bradford-on-Avon en 1955 et il est diplômé de l'université de Leicester en littérature contemporaine. Auteur très prolifique, il écrit aussi bien des space-opéras, de la fantasy que du fantastique. On lui doit notamment les séries "Traquemort", "Hawk et Fisher" et "Nightside" mais il a également écrit la novelisation de "Robin des bois, prince des voleurs".
La recette de ses romans est souvent la même: beaucoup d'action et d'aventure, le tout raconté avec beaucoup d'humour. Actuellement, il écrirait le troisième volume des aventures d'Eddie Drood, héros de "L'homme au torque d'or" et "les démons sont éternels", tous deux publiés chez l'Atalante.
Bibliographie

Traquemort (The Deathstalker series)

The Twilight of the Empire series

1992 : Mistworld
1993 : Ghostworld 
1993 : Hellworld

1997 : Twilight of the Empire (Omnibus)

First Deathstalker series

1995 : Traquemort : Le proscrit (Deathstalker)
1996 : Traquemort : La rébellion (Deathstalker Rebellion)
1997 : Traquemort : La guerre (Deathstalker War)
1998 : L'honneur de Traquemort (Deathstalker Honour)
1999 : Traquemort : La destinée (Deathstalker Destiny)

Second Deathstalker series

2003 : Traquemort : L'héritage (Deathstalker Legacy)
2004 : Traquemort : Le retour (Deathstalker Return)
2005 : Traquemort: La Coda (Deathstalker Coda)

Hawk & Fisher

1990 : Hawk & Fisher (Hawk & Fisher / No Haven for the Guilty)
1991 : Les Jeux sont faits (Hawk & Fisher: Winner Takes All / Devil Take the Hindmost)
1991 : Le Tueur de dieux (Hawk & Fisher: The God Killer)
1992 :  Le Loup dans la Bergerie (Hawk & Fisher: Wolf in the Fold /Vengeance for a Lonely Man)
1992 : Les Neiges du déshonneur (Hawk & Fisher: Guard Against Dishonor / Guard Against Dishonour)
1992 : Les Squelettes de Haven (Hawk & Fisher: The Bones of Haven / Two Kings in Haven, London)
1999 : Les Épées de Haven (Swords of Haven: The Adventures of Hawk & Fisher, omnibus)
2000 : Les Gardes de Haven (Guards of Haven, omnibus)

The Forest Kingdom series
(série se situant avant Hawk & Fisher)

1991 : La Nuit de la Lune Bleue (Blue Moon Rising)
1993 : Blood and Honour
1993 : Down Among the Dead Men
2000 : Par-delà la Lune Bleue (Beyond the Blue Moon)

The Secret History series

2007: L'homme au torque d'or (The Man with the Golden Torc)
2008: Les Démons sont éternels (Daemons are Forever)
2009: The Spy who Haunted Me (2009)

Nightside (The Nightside series)

2003: Vieux Démons (Something from the Nightside)
2003: L'Envers Vaut l'Endroit (Agents of Light and Darkness)
2004: La Complainte du Rossignol (Nightingale's Lament)
2005: Hex and the City
2005: Paths not Taken
2006: Sharper than a Serpent's Tooth
2006: A Walk on the Nightside (A collection of the first three Nightside novels.)
2006: Hell to Pay
2008: The Unnatural Inquirer
2009: Just Another Judgement Day
2010: The Good, the bad and the Uncanny

Romans Indépendants: 
1991: Robin Hood, Prince of Thieves, Novelisation du film de Kevin Reynolds "Robin des bois, le prince des voleurs"
1994: Shadows Fall
2001: Le Vin de minuit (Drinking Midnight Wine)

Site : http://www.bluemoonrising.nl/